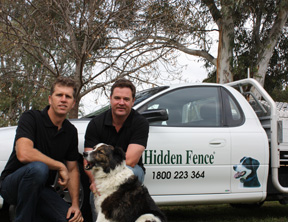 Aaron started his career in the Landscape construction industry in Wimbledon, London in 1999. Initially leading a construction team, and going on to run 5 teams and manage the Company. Aaron has owned and operated two Landscaping companies in the Albury Wodonga region since 2001.
Whilst working on a large domestic project he discovered the benefits of the Hidden Fence system. "We were constantly worried about our clients two toy Poodles escaping. We often had to stop work and start searching the streets for Daisy and Dixie. The Owner contacted Colin Noble who installed a PT4 System. Almost instantly the dogs temperament and behavior improved, and the Owners and our team could relax".
Aaron recognised the need locally and became a Hidden Fence Dealer. He has extensive small business and customer service knowledge, and enjoys helping both new and existing clients, help provide their pet containment solutions
WHAT'S MOST SATISFIYING ABOUT BEING A HIDDEN FENCE PROFESSIONAL?
Wandering dogs in my region is a huge problem. When we started installing the invisible fence system in my area I could already see an impact. The most satisfying aspect is that we make a difference in peoples lives and the community.
WHAT'S YOUR FAVORITE BREED OF DOG TO TRAIN TO AN ELECTRONIC DOG FENCE CONTAINMENT SYSTEM, AND WHY?
Border collies, kelpies, cattle dogs…nearly every dog breed has a great way about them.
WHAT'S YOUR FAVORITE HIDDEN FENCE DOG CONTAINMENT SYSTEM TO USE IN THE FIELD, AND WHY?
PT4 FM Dogwatch Dog Fence hands down. We sell other versions and models of electric dog fence collars, but nothing compares to this product. One size fits ALL applications of keeping dogs from running away.
By far the best electric dog fence product on the market.
DO YOU HAVE A GOOD STORY TO SHARE ABOUT CONTAINING A CUSTOMERS PET?
We removed a diy dog fence system that they had purchased from Ebay.
They had originally looked at the Hidden Fence website and thought it may be too expensive as we don't have any advertised prices (mainly due to the fact we install and train, so we customize every system). We were contacted because the system they had purchased was a disaster. The wire was advertised as "heavy duty thicker wire" and was .25 mm thick. I could have flossed my teeth with it. Not to mention that the dog was getting shocked all over the yard with this unbranded cheap dog fence.
We showed up and let the customer see our PT4 professional unit and hidden fence boundary cable, and they couldn't believe at how much better everything we offered was 100 times better. They were over the moon about the cost as well. Until then we hadn't seen how much of a contrast our products were compared to some of the stuff that's out there.
Lesson here…"before you buy…do your research!"
Products
Dog Fence Containment Systems
Hidden Fence brand by DogWatch
Wireless Dog Fence Systems Indoor
DogWatch Collar Batteries
Electric Dog Fence Products
Dog Doors and Cat Doors
PetSafe Dog Doors
Staywell Dog Doors
Magnet Operated Dog Doors
Cat Doors
Full Installation Available!