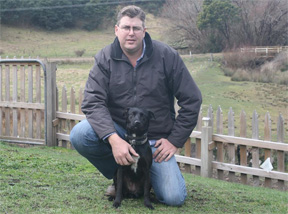 Jason was born to work with animals. Since leaving home at 15 to work on a dairy while finishing school, animals have always played a huge role in his life. Jason has trained dogs to work with sheep and cattle and loves the outdoors so becoming an installer for Hidden Fence was a natural progression for him.
With a special interest in animal behaviour, Jason enjoys the challenges associated with keeping those wandering canine companions at home, allowing them space to play and feel free while ensuring they are always where they should be!
Having had a Hidden Fence dog fence system installed on his own property in Queensland, Jason could see the great advantages of the system. After moving to Tasmania and realizing there was no dealer in the state, he very quickly put his small business skills into practice. Assisted by his wife Ann, a veterinarian in Hobart, Jason hopes to be able to help keep the dogs and cats of Tasmania happy, healthy and at home.
WHAT'S MOST SATISFIYING ABOUT BEING A HIDDEN FENCE PROFESSIONAL?
Installing Hidden Fence units is just generally satisfying. You know you are helping to prevent animals escaping and becoming lost or injured or causing road accidents. You also have the backup of a great team and the knowledge that the product you are using is second to none.
WHAT'S YOUR FAVORITE BREED OF DOG TO TRAIN TO AN ELECTRONIC DOG FENCE CONTAINMENT SYSTEM, AND WHY?
I love training all dogs but working breeds are my favourite. They are very intelligent and responsive and learn so quickly. I guess I should also say I love terriers since I am the proud owner of 2 of them.
WHAT'S YOUR FAVORITE HIDDEN FENCE DOG CONTAINMENT SYSTEM TO USE IN THE FIELD, AND WHY?
My favourite system is the UltraDog Package with a PT4 radio transmitter. I love the small size of the M7 collar which comes with the system and the lifetime guarantee. I know Hidden Fence wouldn't offer this guarantee if they were not completely confident that all their systems are beyond reproach.
DO YOU HAVE A GOOD STORY TO SHARE ABOUT CONTAINING A CUSTOMERS PET?
'Russell' always sticks in my mind. He is a 4kg Mini Foxie x Chihuahua who didn't like to stay in his back yard. No amount of dog fencing could keep him in as he could slip through the tiniest crack. Considering the owners lived on a busy road and had horses that 'Russell' liked to visit I can understand why he had to be confined to a crate whenever they weren't home. The installation of the Ultradog package (with its small collar suitable for little dogs like 'Russell') changed his life. He no longer has to be locked up all day while his owners are at work and can have a great time playing with all his toys in the yard!
WHAT'S THE HARDEST INSTALL YOU'VE ENCOUNTERED?
Rocky ground on the side of a hill and a 5 acre install! Not to mention the 2 Labradors that while incredibly friendly and lovely dogs, were not the smartest I have come across!