CatWatch ® DIY Cat Fence is NOW AVAILABLE!
The CatWatch Hidden Fence cat fence system is a "first available" product in the Australian market. The solution to keeping your cat from escaping or wandering is here!
The CatWatch cat fence system works in a similar way to the DogWatch Hidden Fence dog fence, except specifically designed for cats! Cats can move about a property in a similar way to a dog, except a cat has the physical characteristics to negotiate existing barriers, more so that a dog could.
Our cat training and conditioning protocol is state-of-the-art and was created back in 2003 by Hidden Fence. The cat training and conditioning protocol has been used throughout Australia, UK and USA, and is the recognised and recommended training protocol used in the Victoria Code of Practice for the use of electronic fence collars for cats. Our protocol is the safest and most effective of any cat boundary training technique. When using the CatWatch Hidden Fence electronics, the cat training protocol has a 99% success rate in containing your cat.
5 STARS!!!
Good afternoon,
We purchased a "hidden fence" cat fence for Ziggy, our Siberian Forest Cat.
I installed the system as per instructions, set the flags, and tested the system by keeping the collar close to the ground, near the wire to work out where to put the flags.
We then indoor trained Ziggy for a few days, and let him out on day 4.
We fully supervised him for the first few days, and he got the hang of the system very quickly.
When the "beeper" goes off , he knows he is getting too close to the flags, and if he gets a "zap" (setting is "2") he turns around and runs away from the flags.
Our cat weighs currently 6kg (he is a "large breed" cat), and still growing after 12 months.
The collar does not annoy him, we take it off when he comes into the house for the evening, and we only put it on when he goes outside. He has it worked out, that when the collar goes on, he can go outside.
I also every now and then wave a spare flag in front of him when he gets close to the Line of flags, to give him a reminder.
He loves being out in the garden, and now knows his "boundaries".
It is critical to place the flags so he had reference points.
We have the flags 50 to 75 cm apart.
We are very impressed with the "Hidden Fence" system, and can highly recommend it, as long as you put in the initial effort required to train your cat.
Thanks and regards,
Joe D
QLD
How does it contain your cat?
A special wire cable is run around your property boundary, on a fence line, or at ground level. A Patented FM Digital Transmitter sends a coded radio signal through this cable. Your cat wears a lightweight, waterproof receiver on a stretch collar that detects this harmless signal.
When your cat gets close to the proximity of the cable, an audible warning tone from his collar alerts him that he's "too close, back up".
If the warning tone is ignored, rare after training, the collar emits a non-injurious, customised electrical stimulation. With our proper cat training protocol, your cat will be well aware of the expectation
Your cat's new fence collar
The M12R is the smallest cat fence collar on the market today! Lightweight and flat faced design, allows for the best possible comfort and distribution of weight.
Features include:
Flexible cat collar strap
Programmble stimulation options
6-Month User Replaceable Battery
Status LED
Comfort Fit Contact Posts
The Cat Fence Collar by Hidden Fence will fit perfectly on your cat.
Cat Fence Boundary Examples
You can install your new cat fence in multiple different ways to achieve maximum cat containment! The simplest designs are almost always the best and most effective to contain your cat!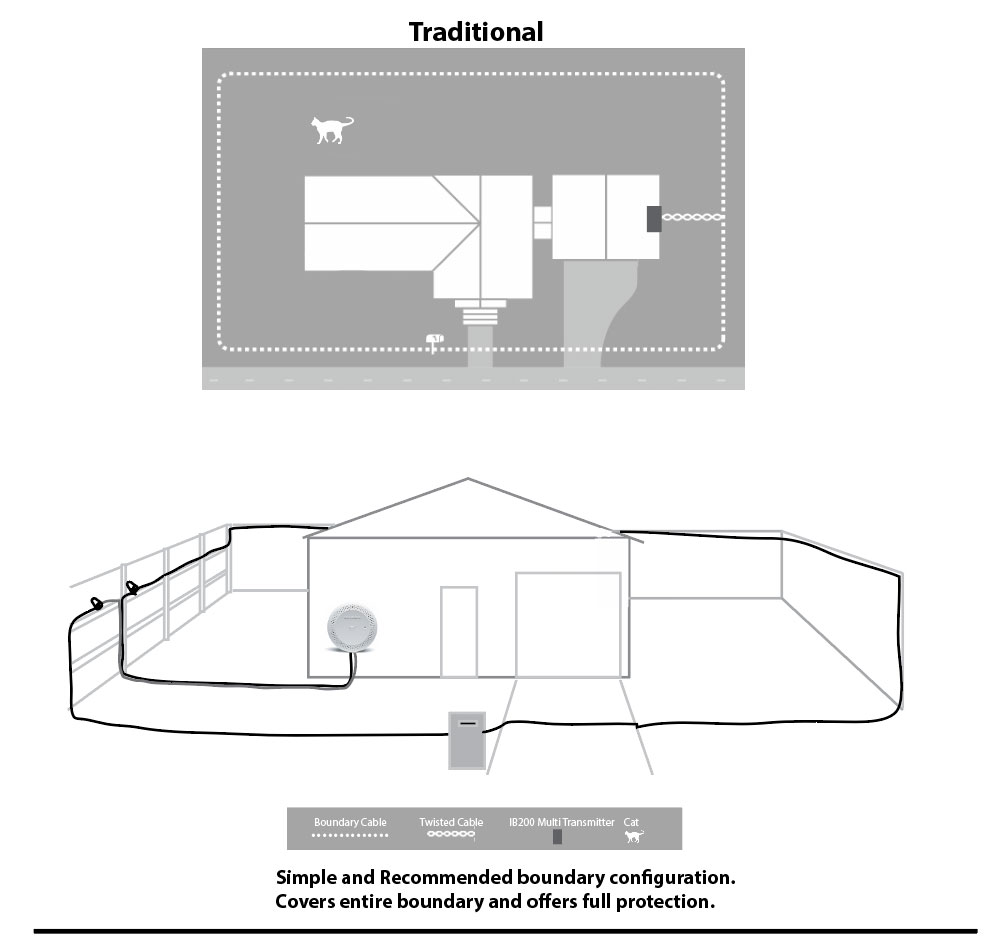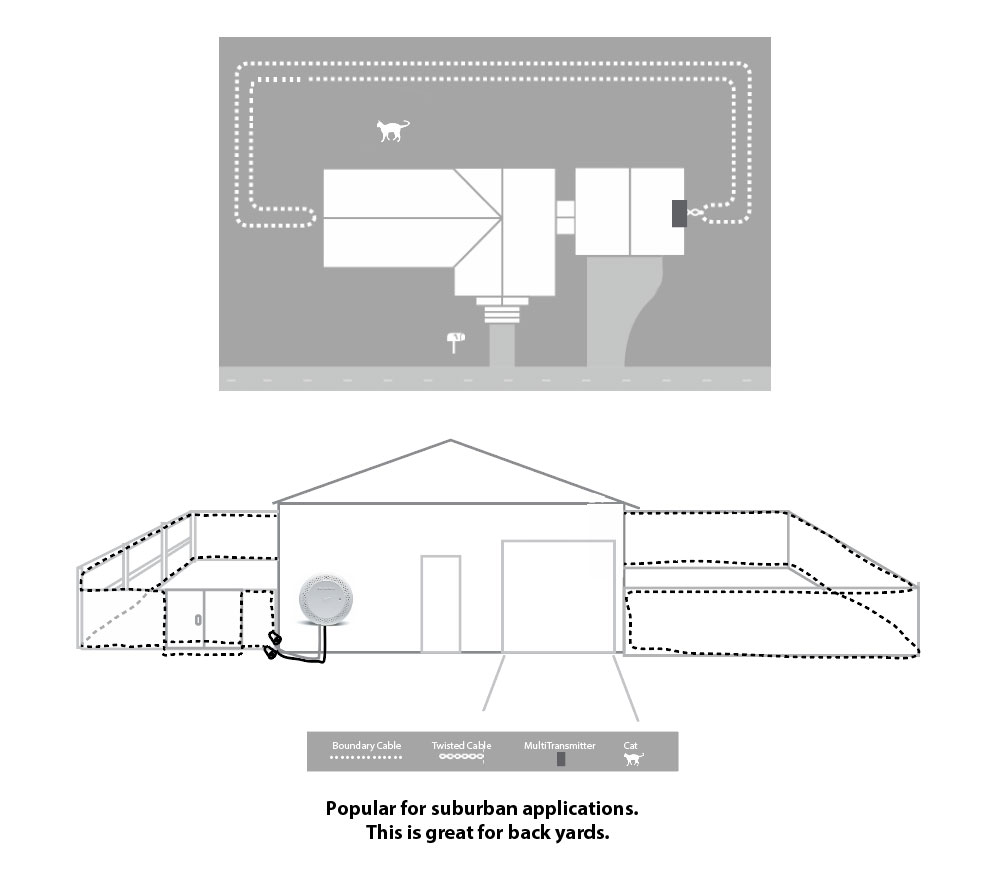 Features
Safelink® FM DM Digital Signal – Patented and EXCLUSIVE
A coded FM DM digital signal insures to minimise unintentionally correct your cat.
Boundary Control Technology – EXCLUSIVE
System can be programmed in multiple ways to solidify the signal throughout the entire boundary. Speed of the pet, behaviour and highly instinctual breeds can be controlled through the programming, which maintains training integrity.
5-Training and Stimulation levels
Subtle enough for perfect training influence, or strong enough for "that" tough cat; Hidden Fence receivers are engineered to offer the consumer the most flexibility on the market for SAFELY containing their cat.
Individually Programmable Collars
Our Cat Fence receivers are fully programmable, so no need for a "small cat" or "stubborn cat" receiver collar. You can have an unlimited number of cat fence collars on a hidden fence system…all programmed individually!!
This makes the Hidden Fence DIY dog fence the SAFEST on the market!
FastReact® – Patented and EXCLUSIVE
FastReact is Digital software that calculates the cats speed at the signal entry point. If the software recognises that the cat is attempting to "break out", the software quickly responds and imparts the correction within 1/8th of a second.
Visual Security Alerts
Immediately alerts if a break in the boundary wire occurs.
2- Acre Capacity!
Hidden Fence DIY cat fencing is able to secure a property anything from a simple doorway to 2 full acres.
6 -Month Battery Life – User Replaceable
Hidden Fence cat fence collars are engineered to be the industry leader in efficiency and reliability. Our receiver collars maximise battery life by utilising specially designed software. Unlike other brands which use proprietary batteries which need to be replaced as early as 30-days. Hidden fence receivers lead the industry globally in this area.
Industrial Grade Components
All Hidden Fence products are manufactured to the highest quality specifications, from gold plated battery contacts, to lead free soldering.
Approved and Compliant to Australian Communication Authority
EMC Emissions: AS/NZS CISPR 22:2002 Class B ITE
3-Year Equipment Replacement Warranty
Honoured throughout Australia by over 18 local distributors.