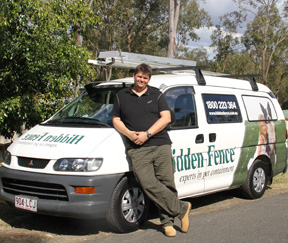 I have always loved dogs and cats and I have always owned a pet from as far back as I can remember. I came across Hidden Fence after my two dogs, Rocco and Phoebe would escape every day after we would leave for work. After spending approximately $1000 on traditional fencing products to try and contain them and looking at the prospect of spending thousands more, I started researching online into electronic dog fences.  Skeptical of the products available online I enquired at our local pet shop of my options.  They highly recommended "Hidden Fence" therefore with this recommendation and the desperate need to stop my dogs from wandering, I rang the Director of "Hidden Fence" – Vance and asked him to come out for a free quote.   Vance visited within days and I found that the price and service was fantastic.  After 30 minutes of the fence being installed, the dogs were trained and 12 months on have never left our yard no matter how tempted they are.
During the installation with Vance, I mentioned how I was interested in moving to Sydney and asked him if he was in need of a distributor.  Vance advised that he was after a distributor for South of Sydney. I jumped at the chance as having worked in the IT Industry for 23 years, performing computer troubleshooting, large scale projects and videoconferencing installations, I was ready for a change.  My love for animals and the opportunity to represent a fantastic product could not have come at a better time.  My wife having recently battled breast cancer and with chronic lymphodoema neeeded to cease full time work.  Therefore with the opportunity to distribute a guaranteed product and my own personal secretary, we made the move.  I am motivated and ready to start saving dog owners from the angst and stress that I once encountered and bring peace of mind to my customers. If you see me and my van, please come and have chat about your options or call me on the 1800 223 364.
WHAT'S MOST SATISFIYING ABOUT BEING A HIDDEN FENCE PROFESSIONAL?
The most satisfying aspect for me is being to able help people fall in love with their dog again. When the dog keeps escaping or alternatively digging where they shouldn't people become frustrated and seriously consider disposing of the dog. The Hidden Fence system gives the owner peace of mind.
WHAT'S YOUR FAVORITE BREED OF DOG TO TRAIN TO AN ELECTRONIC DOG FENCE CONTAINMENT SYSTEM, AND WHY?
My favourite breeds to train so far are Staffordshire Bull Terriers. They are so gentle and intelligent, it takes about 10 minutes to train them. I could also be biased because I own 2 of them.
WHAT'S YOUR FAVORITE HIDDEN FENCE DOG CONTAINMENT SYSTEM TO USE IN THE FIELD, AND WHY?
The PT4 is my favourite system. It lets you refine the boundaries to better suit the installation.
DO YOU HAVE A GOOD STORY TO SHARE ABOUT CONTAINING A CUSTOMERS PET?
I went out to install a system to keep the dogs from digging and running in the clients gardens. He was getting quite frustrated as he loved his gardening and wasn't able to do anything as the dog just destroyed what he had done. It was a huge relief to him when the dog could no longer go into the gardens anymore. He was very close to giving the dog away. Now he can bring his garden back to prize winning condition and keep his dog as well.
WHAT'S THE HARDEST INSTALL YOU'VE ENCOUNTERED?
I had to perform an install where the owner had a decent fence already, but wanted to stop the dogs from going under the house. I had to hide the wire around the house in garden beds and around under and through brickwork. It took a bit longer but worked out fine.