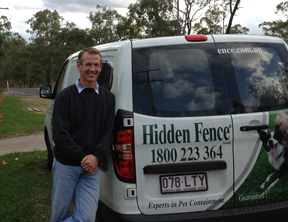 Mark grew up around cats and dogs,  but it wasn't until he met his wife,  Drea,  in 2008 that he was introduced to the joys of being part of a Husky pack … and mountain bike riding.   These dogs are a magnificent and loving part of our family and active lifestyle.
Once a city boy and now on acreage just outside Yass in the NSW Southern Tablelands,  Mark understands the pet containment issues in both of these situations.  Whether it's keeping your dog in the yard or just out of the veggie patch, or stopping it from worrying the sheep, kangaroos and chickens,  Mark can design,  install and train your pet to a Hidden Fence solution which suits your needs.
The strong canine hunting instinct needs equally strong containment.   Traditional fencing solutions can be very expensive,  visually intrusive and yet still not guaranteed to be effective, especially in a rural setting.   Providing a safe and secure,  but still visually stimulating, environment to our companion animals is important to Mark – and remember,  wherever you live, the old saying that "Good fences make good neighbours" still holds true!!
WHAT'S MOST SATISFIYING ABOUT BEING A HIDDEN FENCE PROFESSIONAL?
Being able to offer pet owners a real,  practical solution,  and I like making a positive difference in animal welfare.   The Hidden Fence containment system offers people confidence that their pets are safe.
WHAT'S YOUR FAVORITE BREED OF DOG TO TRAIN TO AN ELECTRONIC DOG FENCE CONTAINMENT SYSTEM, AND WHY?
Huskies (although I do like all dogs)!!!    Huskies have a delightful,  friendly personality which makes them a joy to be around,  but need a containment system stronger than their wolf-like hunting instinct.   Fortunately,  they are also intelligent,  quick learners,  making a Hidden Fence the perfect solution!
WHAT'S YOUR FAVORITE HIDDEN FENCE DOG CONTAINMENT SYSTEM TO USE IN THE FIELD, AND WHY?
The PT4 dog fence is fantastic:  I don't think there is anything out there nearly as good.   It's flexible,  versatile and customisable to almost every conceivable situation.   It can be altered or adjusted after installation,  as often as circumstances change,  and is portable enough to be taken with you when you move house!
DO YOU HAVE A GOOD STORY TO SHARE ABOUT CONTAINING A CUSTOMERS PET?
In the country,  it's extremely important to keep dogs from straying,  where worrying sheep is frowned upon most severely,  and kangaroos are more than capable of defending themselves.   One couple were adamant they needed 100% assurance of containment for their Huskies,  and I was glad to be able to lay their fears to rest.   Their system was installed over a year ago,  and they have been able to leave their dogs free to roam whilst at work during the day without a single escape.
WHAT'S THE HARDEST INSTALL YOU'VE ENCOUNTERED?
Not so much the install as the training:   dogs have to be trained one at a time,  and this couple had three!!   Added to this,  they had just moved to the countryside from suburbia.   The dogs were accustomed to only the limited sights,  sounds,  smells and tastes of a suburban backyard,  so they were incredibly distracted by their sensory overload during training.   Nevertheless,  all three trained to the system within two weeks,  no problems!
Products
Dog Fence Containment Systems
Hidden Fence brand by DogWatch
Wireless Dog Fence Systems Indoor
DogWatch Collar Batteries
Electric Dog Fence Products
Dog Doors and Cat Doors
PetSafe Dog Doors
Staywell Dog Doors
Magnet Operated Dog Doors
Cat Doors
Full Installation Available!