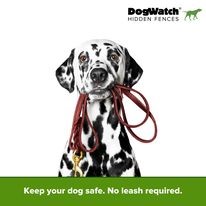 We're in the day and age where we wish everything came with a remote.  Recent inventions have given way to remotes that control our lights, turn on our vehicles from phone applications, and even remotes that can lock our doors and play music for us. Commonly referred to as electric dog collars but more correctly known as electronic dog collars or e-collars, these devices are sometimes used with instructions from a remote. When training different behaviours of our pets, the addition of a remote can be very beneficial.
Electric dog collars with a remote allow for digital FM technology.
The use of a remote with a dog training collar allows for two-way communication between the remote itself and the dog's receiver collar. Communication between these two devices is important because it gives a visual reference to your dog's location on the remote's wide LCD display. If your dog is out of range, you can see this on your remote and act before it's too late, a feature not available from electronic dog collars without remotes.
15 levels of stimulation provided by the remote of electric dog collars.
The various settings available for training the individual needs of each dog are controlled by a remote. Because different dogs, breeds, and sizes all require different levels of frequency and intensity as it applies to stimulation to correct behaviour, using a remote to control these settings is pertinent. Beyond picking the appropriate level of stimulation, the remote that comes with electric dog collars offer different modes for training, depending on your dog's level and success. When your dog is doing better, its training level can be reduced with the touch of a button.
Electric dog collars with a remote come with Firefly nighttime feature.
The firefly nighttime feature is unique to dog collar receivers that are paired with a remote. This feature allows for 2 bright LED lights to be activated on your dog's collar from the remote. Nighttime walks can be scary and hard to navigate. The light source activated on the dog trainer collar is extremely useful, and even more helpful that it's activated by remote versus getting down to a dog's height and trying to find the right button. The firefly nighttime feature is also efficient in locating your dog in dark situations.
There are 800 meters of space allowed between you and your dog with a remote.
One of the most appreciated features of a remote is its ability to control something without having to be close to it.  With electronic dog collars equipped with remotes, there are 800 meters of range between the remote itself and the receiver around the dog's neck.  That means all the features of the dog collar are present, even when your pet is 800 meters away.  This large distance between an owner and pet is perfect for controlling behaviour when your dog is playing far away from you or on long walks without the leash.
The best dog training collar with a remote available is the BigLeash remote trainer through Hidden Fence. This dog trainer collar reconditions the problematic behaviour of unresponsive dogs and loud barking ones.  Its unique features are only available through the connection of a remote.  Features such as the Firefly night option and the ability to control your dog from over 800 meters away are all variable features without the addition of the handheld controller. Programming this unique electronic dog collar is as easy as opening the included user-friendly instruction guide, which is described as 'intricate enough to address individual dog issues, and easy enough that anyone could use it.' What's perhaps most appreciated about the Big Leash remote trainer is the digital connection you can maintain with your pet, all without being in close range.
Take all the hassle out of correcting problem behaviour with the BigLeash remote trainer. Its included remote makes the execution of innovative functions incredibly easy. The BigLeash remote trainer is available for purchase and shipping. Any enquiries or questions can be made here, with trained dog lovers available to help you every step of the way. Enjoy all that remote-controlled electric dog collars in Australia have to offer.