The best dog trainer collar is one that promptly corrects problem behaviour while keeping the welfare of your dog above all other considerations.
That's why we choose the SideWalker Dog Walking Trainer by DogWatch as one of our absolute favourite dog trainer collars. There are many different dog trainer collars on the market, but this one has specifically become a fan favourite. Keep reading to get an inside look at all the things that make the SideWalker dog trainer collar one of the best options for your dog.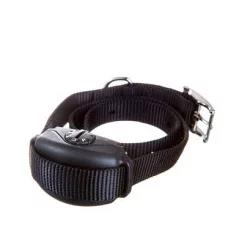 The SideWalker electronic dog collar works by using advanced microsensors to pick up on movement indicative of pulling on the leash. When enough pressure is applied to these sensors, or in other words, your dog pulls away enough, microprocessors send a safe electrical stimulation to alert the dog that this is not good behaviour. Over time with repetitive incentivised electrical stimulation, the dog learns not to pull away on walks or at all. This behaviour is ingrained in their memory, and the behaviour sticks practically forever, eventually releasing the need for this training intervention.
This unique dog training collar is one of our favourites because….
The SideWalker Electronic Dog collar works…. and quickly.
Where choke collars and other training devices have failed, the SideWalker has been able to correct problem walking. After only a few uses, there is a difference in behaviour. Many customers notice a difference in the first 30 to 50 meters of walking – that their dog's walking has improved nearly 100% since walking out the door. Few to no other products have this great of efficiency and lasting behaviour changes.
The SideWalker dog training collar is low maintenance.
The big leash dog training collar is one of our favourites because it was created with dogs and their owners in mind. Equipped with a rechargeable battery versus expensive replacements, the SideWalker electronic dog collar is able to last for multiple days before its next charge. This unique training device also takes owner welfare into consideration with the use of its self-teaching design. From weekly hands-on training to training your canine completely hands-free, we love how this dog trainer collar takes the hard work out of good training.
And finally, the SideWalker Dog Trainer Collar is the safest option for quick training.
We mentioned before that owners utilise other methods of training, such as halt and choke collars. These types of collars have been proven to be dangerous as they rely on painful pressure and adjustments to the dog's neck. Beyond the dangers choke collars pose, they are hardly effective, often taking weeks to months to show a difference in pulling behaviour. The SideWalker dog trainer collar gives owners the peace of mind they need to use a dog trainer collar. Innovative electrical stimulation is used to correct behaviour and can be increased or decreased on dog needs. Safety is first when it comes to our furries, and the SideWalker dog training collar puts this first.
We love the SideWalker Electronic dog collar, and for obvious reasons. We've yet to find a better dog trainer collar with the ability to safely and quickly correct walking behaviour, all without human instruction.
An honourary mention goes to the BigLeash remote control training collar, the first dog trainer collar in its line to come with a remote. The BigLeash remote control training collar makes our list of best dog trainer collars because the addition of a remote enables features such as LCD display battery status, dog location and training level. We also love that it uses the same electrical stimulation to correct behaviour as the BigLeash dog training collar.
We'd love to help you find the best dog trainer collar for your specific dog. Contact us about the best dog trainer collars available or make an enquiry through our website.