Electric dog collars in Australia can be purchased and delivered to your doorstep, as easily as you can purchase a new pair of shoes for yourself.
We know that training your beloved dog is not only crucial to their behavior, but depending on where they're at in life, of timely essence. Whether you've got a new pup that needs assistance in conditioning or an older dog that needs an updated dog training collar reflective of innovative technology; the options for buying an electronic dog collar here in Australia are very much accessible.
Can electric dog collars in Australia be purchased online?
One of the most common methods of buying and receiving new products is online. The purchase of an electric dog collar is no different.
Hiddenfence.com offers a full line of electronic dog collars on their website. Their selection includes training collars based on specific needs of your animal, anti-barking collars, remote dog trainer collars and even a walking training collar. All these products are listed with user friendly demo videos, as well as thorough product descriptions and an incredibly easy click to purchase button bringing you closer to holding the new training device in your hands.
For example, to purchase Hidden Fences top rated walker trainer collar, all you would need to do is visit their website here.  After reading their product descriptions and reviewing included demonstrations, a blue BUY button will direct you to the specific product page.  You will be prompted to add your electronic dog collar to the cart and following shipping and billing information will have easily purchased your new training tool.  Purchases are received in as little as a week, depending on your selected shipping preferences.
Can electric dog collars be purchased directly from a distributor near me?
Another common way to acquire your new electronic dog collar is by purchasing directly from a distributor near you. This option is popular for those who prefer to physically touch and try on their new product. For some, when introducing a pet to a new device, it just works out better to introduce the device in a comfortable setting before purchasing and trying it on at home. Purchasing from a distributor also enables any questions or concerns to be answered directly upon purchasing.
Distributors of electronic dog collars in Australia are numerous. It just comes down to you finding the distributor in closest proximity to you. To find a distributor nearest your location, visit HiddenFence's contact page here . They have a list of locations you can choose from to assist with your electric dog collar in Australia search, and all are under the respected direction of Hidden Fence's competitive and world-renowned ownership.
Once a location is found, basic contact info can be found by clicking on your selection. The profile tab will reveal more about the chosen distributor in your area and even a few helpful insights to your region.
Lastly, this page includes an enquiry form that you can submit prior to your first visit, if you have any looming questions before you load up your car and head to the distributor. Many distributors also offer home visits.
Alternatively you can just submit an enquiry form here.
Does my dog need professional training to use an electric dog collar in Australia?

One of the biggest deciding factors in where you can purchase your dog's electric collar in Australia, is the amount of help or professional training that might be needed upon delivery. While an electronic dog collar may be an unfamiliar addition for your pet, included owners' guides make use just as easy for your four legged friend, as introducing a new toy.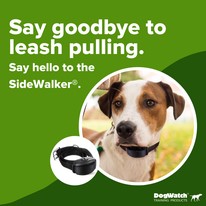 The product pictured above is Hidden Fence's Side Walker dog collar, the first in its application to correct walking behaviour through sensors within the collar.  This device may seem like it would benefit from professional training for your dog, however the included owners guide enables ease of set up and training. Any questions that may arise can be found here, including how the Side Walker works, and answers to how to fit and even test the collar on your pet.  Our step-by-step guides, as well as on-call professionals at our distribution centres if any problems arise, make the success of a dog training collar that much easier.  You can apply the device to your pet and know that he or she will still benefit from its use, even without professional training.
Electronic dog collars in Australia are readily available to assist you in the training and conditioning of your pet.  With dog trainer collar options easily purchased online, or directly from a distribution centre near you; Hidden Fence's is excited for you to experience the dog approved system that has helped positively guide dogs' behaviour for the past three decades.  Find your dog training collar of choice here , as well as locate distribution centres near you.