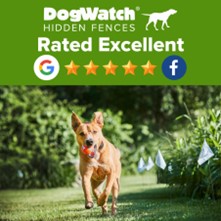 It's undeniable that invisible dog fences are a great way to confine your pet safely.  But have you ever wondered how long they last?  With all things considered, from weather to extended periods of use, we'll compare 2 types of invisible dog fences to get a good idea of how long they'll hold up.
The electric dog fence DIY 1200FMD Hidden Fence is Dogwatch's most popular and easy-to-install Hidden electric dog fence kit. One of the key features of this containment system is its adaptability. Tried and true on breeds of all shapes and sizes, the 1200FMD hidden fence is the best option to adapt to the needs of any breed. It also comes with 5 training and stimulation levels to further meet the containment needs of each individual dog.
One of the features that make this electric pet fence last so long is its ability to withstand all types of weather. Its waterproof design and surge protection feature ensure that even in the worst of storms, this electronic pet fence will withstand compromising conditions and deliver safety to your pets years after installation. Another key feature that extends the longevity of the DIY 1200FMD hidden fence is its included 3-year warranty… which has a magnificent less than 1% use rate. You read that right! This product is built with durability and materials to withstand the test of time, so much in fact that its included warranty is hardly ever used. It's offered as a double layer of protection, but this invisible dog fence has proven itself to be long-standing and operative.
The 2-year battery life that comes with this electric dog fence kit also ensures a long-lasting installation.  Other brands use batteries that need to be replaced as early as 30 days, creating an energy-draining system that requires a lot of maintenance.  
This electric dog fence comes with all the same amazing features as the DIY 1200FMD Hidden Fence, but it takes it a step further. With app-enabled, text-notifying programmable software, this smart fence is the most advanced in its line.
Similar to the DIY 1200FMD, this specific product boasts its ability to safely contain all breed sizes due to its programmable options based on size. It also comes with a 1-year battery life that can be easily replaced by the user.
Features that ensure its working function are FM Digital Software by SafeLink® and Speed detect FastReact® Software. When a pet electric fence includes software that provides optimal function of the invisible fence as a whole, it creates a longer-lasting containment system that doesn't malfunction or experience defects.
To promote this product's longevity, the Smart Fence comes with a lifetime warranty. This warranty, similar to the DIY 1200FMD, is cited with a less than 1% usage rate. Consumers of failed containment systems often switch over to advanced fences such as the Smart Fence, making it the best containment system on the market.
While both of these hidden dog fences have gained reputations for being long-lasting and leaders in their industry, they also offer the option to be self-installed. Each dog electric fence kit comes packaged and ready to install with directions and a guide delivering a safe, long-lasting, invisible fence system. However, while these containment systems have been made to be user-friendly and promote 'DIY' installation, we always offer professional help for any problems that may be encountered. With professional installation, you also gain the added perk of the installer introducing and familiarizing your pet to its new system, something that is not experienced with DIY installs. Coupled with professional experience, training, and understanding of their product, a Hidden Fence dealer is always available to make your installation seamless and correctly installed. More comprehensive training sessions are also available.
Because an invisible dog fence requires an investment, the longevity of this product is crucial.  Hidden Fence takes pride in manufacturing industry-leading systems that compare to none other in its market.  Even more, Hidden Fence offers rarely used warranties (citing a less than 1% usage rate) that exist as a double layer of protection to a product that's proven itself to withstand the test of time, weather, and usage.
If you think invisible dog fencing may be the answer to your problems,  visit https://hiddenfence.com.au/installation-enquiries/ to enquire about the best option for your specific situation and to begin the process of becoming the owner of the best invisible dog fencing system Australia has to offer.