As much as we love our four-legged friends, sometimes uncontrolled barking can be not only bothersome but an indication of a lack of training and proper discipline. Few options are as beneficial as an e-collar, not to be confused with a shock collar, to stop barking. Here we'll discuss the difference between an e collar vs shock collar and why an e-collar is the most promising anti barking mechanism to control loud, disturbing dog barking.
What is an electronic anti bark collar?
Electronic dog bark collars are collars that use a modern technology called Transcutaneous Electrical Nerve Stimulation to direct a dog's attention. Completely different from the recognized shock collar, this innovative device doesn't painfully shock dogs at the slightest sound picked up. (This was a big problem with old "shock" collars; they have been recognized to pick up on noises not related to the dog barking and deliver painful shock waves to dogs who weren't even making noise.)
This new and improved electronic anti bark collar delivers stimulation that is non-harmful and is only intended to serve as a prompt for your dog. More importantly, it directly picks up dog barking and not surrounding noise so as to deliver only necessary nerve stimulation to correct loud behaviour. Electronic anti bark collars are the new and improved shock collars, completely updated to provide the most efficient behaviour control and are the reason e collars are the clear choice when it comes to choosing between an e collar vs a shock collar.
Do I really need an electronic anti bark collar?
Whether you're new to the idea of an electronic dog bark collar, or already familiar with the mechanism, there are many reasons for its application. Some people use e-collars not only to control barking but as a proactive training system before it becomes problematic. For dogs with existing behaviour issues or aggressive tendencies, this device is perfect for correction and conditioning. In some areas where living quarters are close and confined, such as apartment buildings, a dog collar is extremely beneficial in reducing noise complaints and disturbances. Finally, when taking your dog on outings or in crowded settings, the e-collar acts as a form of control against unnecessary and potentially embarrassing loud behaviour. With its many applications, it can help positively condition your dog's behaviour.
E Collar vs Shock Collar? Why is an e collar the best option for controlling loud barking?
This adaptive, preferred technology is the best option for controlling dog barking for many reasons. Unlike a shock collar that picks up inapplicable noise and responds with a harmful shock, the e-collar is equipped with 7 adjustable settings ranging from low to high, including a vibration option so you can select the necessary setting for your dog's individual needs. In a system designed with dogs in mind, the stimulation delivered at the sound of a dog barking will increase within the intended setting if the behaviour continues. When the barking ceases, the collar resets and waits for another onset. Simply put, when choosing between an e collar vs shock collar, the e-collar is the best option because it's a training tool that can be changed based on behaviour, in comparison to former options that delivered one painful shock to correct all behaviours.
These features create a safer, more gradual control system that is tailored to individual dogs' needs; as we all know, none of our furry friends are made equal.
The e-collar is also the best option because it's lightweight, waterproof and rechargeable, making it ideal for dogs that are very playful and get dirty often. These features make the dog collar durable and long-lasting. It also comes with a 3-year warranty to ensure you get the absolute most out of your new collar.
So, where can I get an e collar to stop my dog from barking?
The Hidden Fence brand has combined its industry-leading expertise with innovative technology to deliver the electronic anti bark collar to the neck of your beloved four-legged friend. It's available to you online, meaning no store visits are required and can be delivered to your front door immediately, ready for use. Check out its product page here, and don't forget to give the raving reviews a skim over: https://hiddenfence.com.au/product/the-bark-collar/.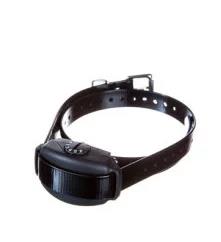 You're just a few clicks away from enjoying the benefits of the well-reviewed e-collar!  Don't risk another lost night of sleep or the potential to provide long-lasting training to your pet by way of Australia's most innovative and dog approved e-collar.